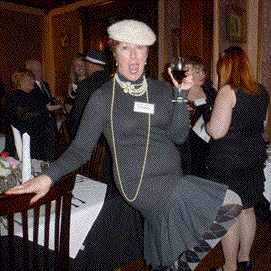 Private & Corporate Events
Murder by Design murder mystery dinners are a great way to celebrate birthdays, anniversaries, family reunions, holidays, weddings or any time friends and loved ones want to get together for a little... murder.

Murder mystery dinners are also a great way for businesses and corporations to celebrate their employees or to be used as part of a team building excercise.
If you are looking to host an event, for whatever occasion, Murder by Design murder mystery dinners are the perfect way to go. We have many themes that can fit your occasion. Our events are designed for parties of 20 to 100 guests with unique characters and themes. We can host an event at your business, home or one of the many Bed & Breakfast Inns in the Kalamazoo area that sponsor Murder by Design events.

If you are curious about hosting your own event, drop us a quick email and lets us know what you are looking for.